"White Coral Bells
Upon a slender stalk
Lilies of the valley deck my garden walk"
This is one of the first flowers I remember when I was a kid. I thought then it sure had a lot of smell for such a small flower. Same goes for now I suppose. It really does have one of the most memorable fragrances of the Spring flowers.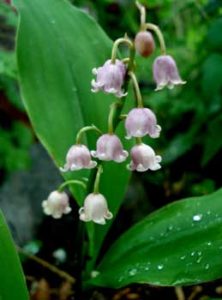 For your woodland garden, you really do need to have some specimens of this classic. I know we'll hear the, "Oh, but they can really take over!" gang make some noise. But what is it with us gardeners? Are we so used to the failure, disappointment and underachieving by our garden plants that we can't accept a true high performer in our midst? Let's hope we don't run our businesses like this. Or our schools! Oh wait…


How about a little history
Convallaria majalis is not a true lily. Why am I not surprised? Because we gardeners are used to common names for our plants ranging from the whimsical (balloon flower), nonsensical (obedient plant), and the obtuse (false Solomon's Seal). False Solomon's Seal is one of my favorite woodland perennials- one I admire more than its non-namesake, but more on that later.
Lily of the Valley grew wild, and still does, throughout most of Europe. One 6-8″ flower stalk with bell-shaped flowers in between two sword-shaped dark green leaves. Plenty of holistic experimenting went on with this plant for thousands of years with basically nothing to show for it except: Do not eat any part of this plant!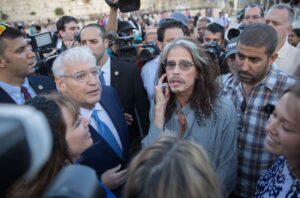 The plant's range includes some woodlands of North America, so the debate goes on: Which came first, the lily of the valley or the colonist? Since most of us weren't around at that time- other than Steven Tyler and David Friedman (both noted non-gardeners)- we'll leave that debate…to debate.


Growing Requirements
If your garden is located within the USDA gardening zones of 3,4,5,6,and 7- congratulations! This plant will grow for you like Lindsay Lohan's arrest record. Zone 8? I say, "Go for it!". Higher zones than 8, I don't see that you will have the chilling days needed to properly set their bloom clock. The plants will survive, and probably thrive, but your bloom will be sporadic.


Soil should be amended with organic matter and tend toward the acidic side of the pH scale. Remember, these are forest floor type of plants, so think about those preferred conditions when you site these in your garden. Full shade to part shade will be fine. Never full sun in any zone.
In my zone 5, I see the most blooms set on plants with part shade.


Your new plants spread by underground, asexual reproduction. The seeds, inside the bright red berries of the Fall, are sterile. Do not try to grow lily of the valley by seed. It is just too difficult and complicated and will take away your time from your other activities such as alchemy and perpetual motion machines. Run, or click swiftly, away from anyone bearing Lily of the Valley seeds. No. It won't end like Jack and the Beanstalk. The Giant (eBay and Amazon) will still be alive, and you'll be missing one cow. It is far easier to start your colony with one live plant than a thousand seeds.
Don't buy Seeds, buy Plants!


If you'd like to contain your growing plant family, you can place them within an edging or border that goes at least 5 inches below ground. I've noticed that rocky soils tend to slow their aggression a bit more than sandy soils. If you think you'd like to pave over your Lily's before transplanting them elsewhere, be forewarned: Nothing they like more than a survival challenge.


Varietal Information*
C. majalis 'Albostriata' has white-striped leaves. Haute Cottagewill have these for sale by April, 2011.
C. majalis 'Green Tapestry', 'Haldon Grange', 'Hardwick Hall', 'Hofheim', 'Marcel', 'Variegata' and 'Vic Pawlowski's Gold' are other variegated cultivars
C. majalis 'Berlin Giant' and C. majalis 'Géant de Fortin' (syn. 'Fortin's Giant') are larger-growing cultivars
C. majalis 'Flore Pleno' has double flowers.
C. majalis 'Rosea' sometimes found under the name C. majalis var. rosea, has pink flowers. Haute Cottage, a favorite plant website, is shipping this variety now.